---
A Retrospective Celebration of Daft Punk Performed Live.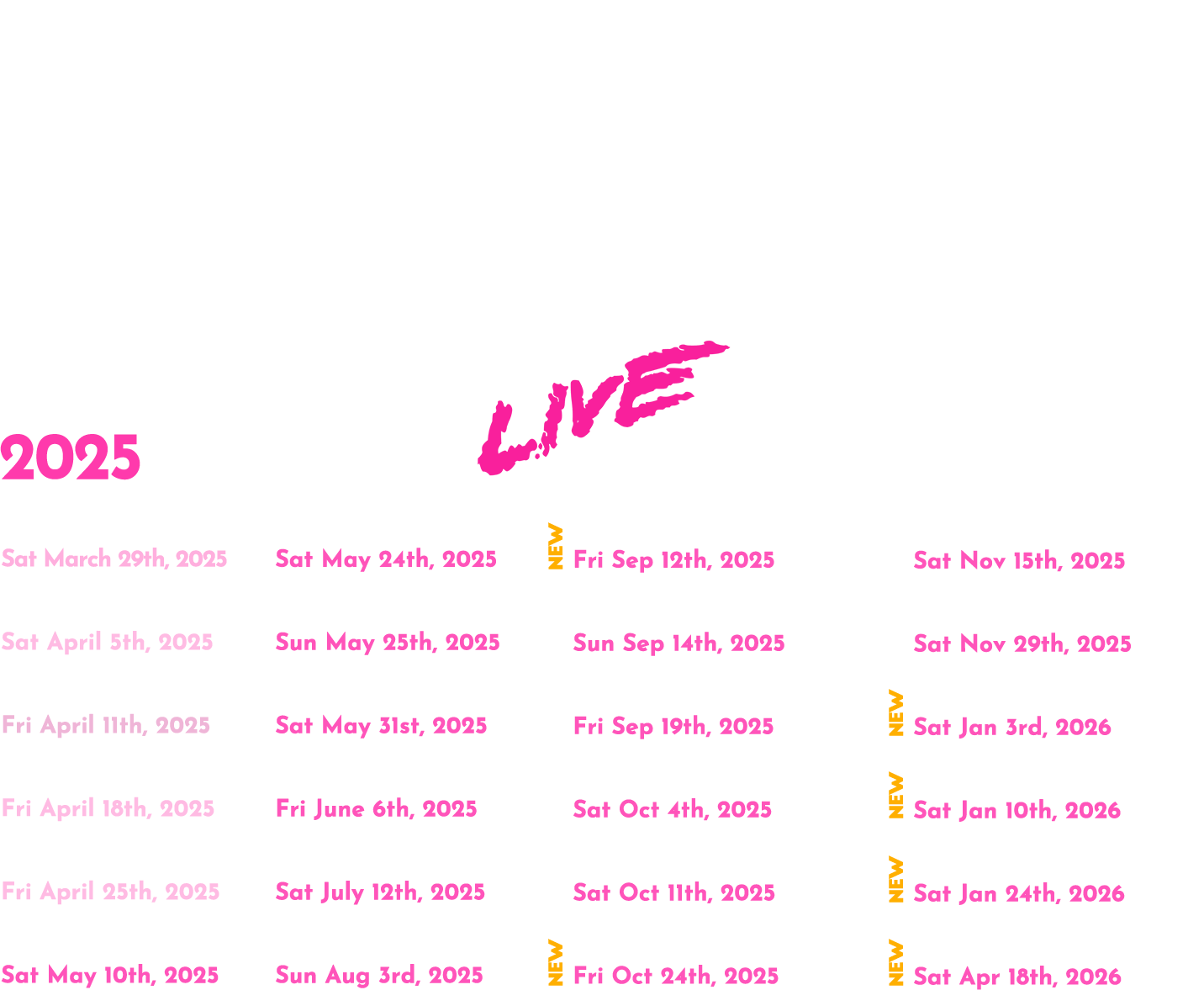 ---
Recent appearences include:

---
---
---
Our work is never over.
---
'Daft Funk Live' are one of the world's most prestigious Daft Punk tribute bands - diligently constructing a 'live' rendition of Daft Punk's legendary performances and appearances. They incorporate their own synchronised light shows together with live instruments to give a truly immersive and unique experience. Their stage production is meticulously crafted, paying the utmost respect to the infamous and illusive Robots.
---
From Homework to RAM . . . and beyond.
---
In light of the recent split of the official robots, these equally mysterious robots continue to pay homage to the infamous house masters by performing Harder, Better, Faster, Stronger. Expect live renditions of selected songs from Homework to RAM....and beyond! with the addition of unique mixes in the revered Daft Punk style.
---
---
The way you guys capture more than the sound of Daft Punk, more than the look, but also the essence of what they are about, is staggering.
★ ★ ★ ★ ★
Tom
(Editor-in-Chief of Global Content, The Red Bulletin)
---
"...totally superb, an incredibly detailed performance giving you a Daft Punk explosion of sound & colour."
★ ★ ★ ★ ★
Max Taylor
(Groove Armada, Mika, The Bays, Creepy Neighbour)
---
"The Best Daft Punk Tribute, Around (The World) "
★ ★ ★ ★ ★
Rescue Rooms, Nottingham
---
"Tributes don't get better than this "
★ ★ ★ ★ ★
Factory, Manchester
Upcoming Shows
------------
The New Years Eve Cathedral Masquerade Truro
Sun 31st Dec, 2023
BUY TICKETS →
------------
KOMEDIA Brighton
Sat Feb 24th, 2024
BUY TICKETS →
(Previous show at this venue Sold Out)
------------
O2 Academy Islington, London
Sat March 2nd, 2024
BUY TICKETS →
(Previous 2 shows Sold Out)
------------
------------
------------
------------
------------
The Hare And Hounds Birmingham
Sat May 11th, 2024
BUY TICKETS→
------------
------------
------------
------------
Norwich Arts Centre Norwich
Saturday 12th October 2024
BUY TICKETS→
------------
Rockin Chair - Wrexham
Saturday 9th November 2024
BUY TICKETS→
---
---
---
Get Social
More Reviews
"Tributes don't get better than this" - Factory, Manchester.
★ ★ ★ ★ ★"These guys filled the arena at 1:00 a.m. and delivered a killer set" - Super bock Super Rock Festival, Lisbon 2022
★ ★ ★ ★ ★"there ain't nothing daft about it and there's funk in spades.
The lights, the sound and custom-built stage production are totally superb and incredibly detailed giving you an excellent Daft Punk explosion of sound and colour."
★ ★ ★ ★ ★"I'm no longer worried that the original duo broke up, knowing we have these guys doing an incredible homage! The level of detail was phenomenal and as accurate as the real thing."
★ ★ ★ ★ ★"If Daft Punk had toured with instruments, this is as close as you could get."
★ ★ ★ ★ ★"This is no small feat for just a tribute band. They're too original. At least too close. Creepily close"
★ ★ ★ ★ ★*"As a massive Daft Punk fan I was ready to 'not' enjoy the show... h0lly $h!t ballz I was put in my place! Beyond epic... if you get the chance to see them live grab it with both hands!" *
★ ★ ★ ★ ★*"Eargasm + eyegasm! The most bad-ass Daft Punk recreation I have ever seen." *
★ ★ ★ ★ ★*"You guys were AMAZING! Everyone is talking about it!" *
★ ★ ★ ★ ★*"…one of the best new tributes right now" *
★ ★ ★ ★ ★
"We wanted to hear these guys on a bigger system so we put them on the main stage, twice!!" - Latitude Trailer Park 2022
★ ★ ★ ★ ★"The only Daft Punk tribute worth seeing."
★ ★ ★ ★ ★"Incredible live Daft Punk experience, phenomenal light show, blew everybody away. These boys are going to be big so was an honour to host such an intimate show. Daft Funk, we salute you"
★ ★ ★ ★ ★"They kept everybody totally engaged throughout. Would definitely recommend these guys again."
★ ★ ★ ★ ★"This show was utterly brilliant. I cannot rate them highly enough"
★ ★ ★ ★ ★"After booking these guys for our festival. All I can say is breathtaking. Complete professional guys and what a show!"
★ ★ ★ ★ ★"These guys rock. I've never heard the unique mixes they did and the live instruments were amazing. Loved every minute!"
★ ★ ★ ★ ★"Daft Funk Live are no tedious tribute - bringing a completely convincing take on the disco house masters!"
★ ★ ★ ★ ★"Wow! Brilliant show and brilliant musicians! Could be the real thing!"
★ ★ ★ ★ ★"They where my highlight, top sounds & visuals. A credit"
★ ★ ★ ★ ★*"This might be the coolest application of CHAUVET DJ gear yet! 'Daft Funk Live' really captures the spirit of their idols." *
★ ★ ★ ★ ★
Previous Shows
The Engine Shed,
Lincoln Fri 20th Oct, 2023The Brook, Sothampton,
14 October 2023Hard Rock Hotel, Ibiza,
25 September 2023Social, Hull,
Fri 23 September 2003Camp & Furnace, Liverpool,
Fri 15th Sept 2023Camp Wildfire Festival, Kent,
Fri 1 September 2023The Warehouse, Leeds,
Sat 1st July 2023The Fleece, Bristol
Jun 17th, 2023Factory, Manchester
Sat 13th May, 2023Rescue Rooms, Nottingham
7th May, 2023Craufurd Arms, Milton Keynes
Sat 6th May, 2023The Mill, Birmingham
Apr 29th, 2023The Bullingdon Oxford
Apr 21st, 2023Esquires Bedford
Sat, 22 Apr, 2023Foundry, Sheffield
Mar 25th, 2023SOLD OUT
O2 Academy Islington, London
Mar 3rd, 2023SOLD OUT
The Globe, Cardiff - Feb 25th, 2023Storey Fields Centre, Cambridge
Fri 2nd Dec 2022SOLD OUT - London (Secret Location)
Fri 26th Nov 2022The Engine Shed, Lincoln
Fri 28th Oct 2022Club 85, Hitchin
Sat, Sep 17th 2022Chinnerys Southend
Sat, Sep 10th 2022Latitude Festival, Southwold, UK
20th - 24th July 2022Super Bock Super Rock, Lisbon, Portugal.
Fri 15th July 2022The Boileroom, Guilford
Fri 1st July, 2022The Pier, Hastings
Fri 17th June, 2022The Forum, Tunbridge Wells
Sat 18th June, 2022The Fleece, Bristol
27th May 2022Craufurd Arms, Milton Keynes
Sat April 30th, 2022The Brook, Southampton
Fri April 22nd, 2022EBGBS, Liverpool
Mar 25th, 2022SOLD OUT
London O2 Academy Islington
Saturday 19th Mar, 2022SOLD OUT
18th Dec 2021 @ The Portland Arms, Cambridge10th Dec 2021
Esquires- BedfordSat Nov 20th 2021
Old Bakery Studios TruroSAT, OCT 30 2021
KU StocktonFRI, OCT 8 2021
HiFi, Leeds.SAT, OCT 9 2021 @ Fac251, Manchester.SAT, SEP 18 2021
Patterns, BrightonSAT, AUG 14 2021
Saltgrass SunderlandFRI, FEB 28, 2020
2Funky Music Cafe, Leicester.SOLD OUT
SAT, FEB 22, 2020
Komedia BrightonSAT, FEB 1, 2020
Factory, ManchesterSOLD OUT
SAT DEC 21 2019
Picturedrome NorthamptonSAT, NOV 2, 2019 Zombie Fest presents
The Ark NewmarketFRI, NOV 1, 2019
The Nottingham Britannia ClubSAT, OCT 19, 2019 Land of Hops and Glory
Grantham Beer FestivalSAT, SEP 28, 2019
AMP in BuxtonFRI, SEP 13, 2019
Hifi Club LeedsSAT, AUG 31, 2019
Fudstock Music Festival, Cumbria.SAT, AUG 17, 2019
Olbys, MargateSAT, JUL 13, 2019
2Funky Cafe, Leicester.FRI, JUN 28, 2019
The Met Lounge, PeterboroughFRI, MAY 10, 2019
The Portland Arms, Cambridge